Xebia Academy, the tech upskilling solutions division of digital transformation consultancy firm Xebia, is pleased to announce its new partnership with Saudi Arabia's Takamol through the signing of a Memorandum of Understanding (MoU) at GITEX-2023 Dubai. The signing signifies the onboarding of Xebia Academy as Takamol's knowledge and delivery partner in setting up the digital arm of Takamol Academy – an IT upskilling/reskilling program offering learning journeys and courses to empower professionals within the KSA region in Saudi Arabia.
The MoU signing ceremony was held at Takamol's GITEX booth on Tuesday, October 17 with Dr. Abdullah Altuwaijri, Takamol's Vice President Skills Unit, and Mohit Mehta, Xebia's General Manager for Middle East Client Engagement.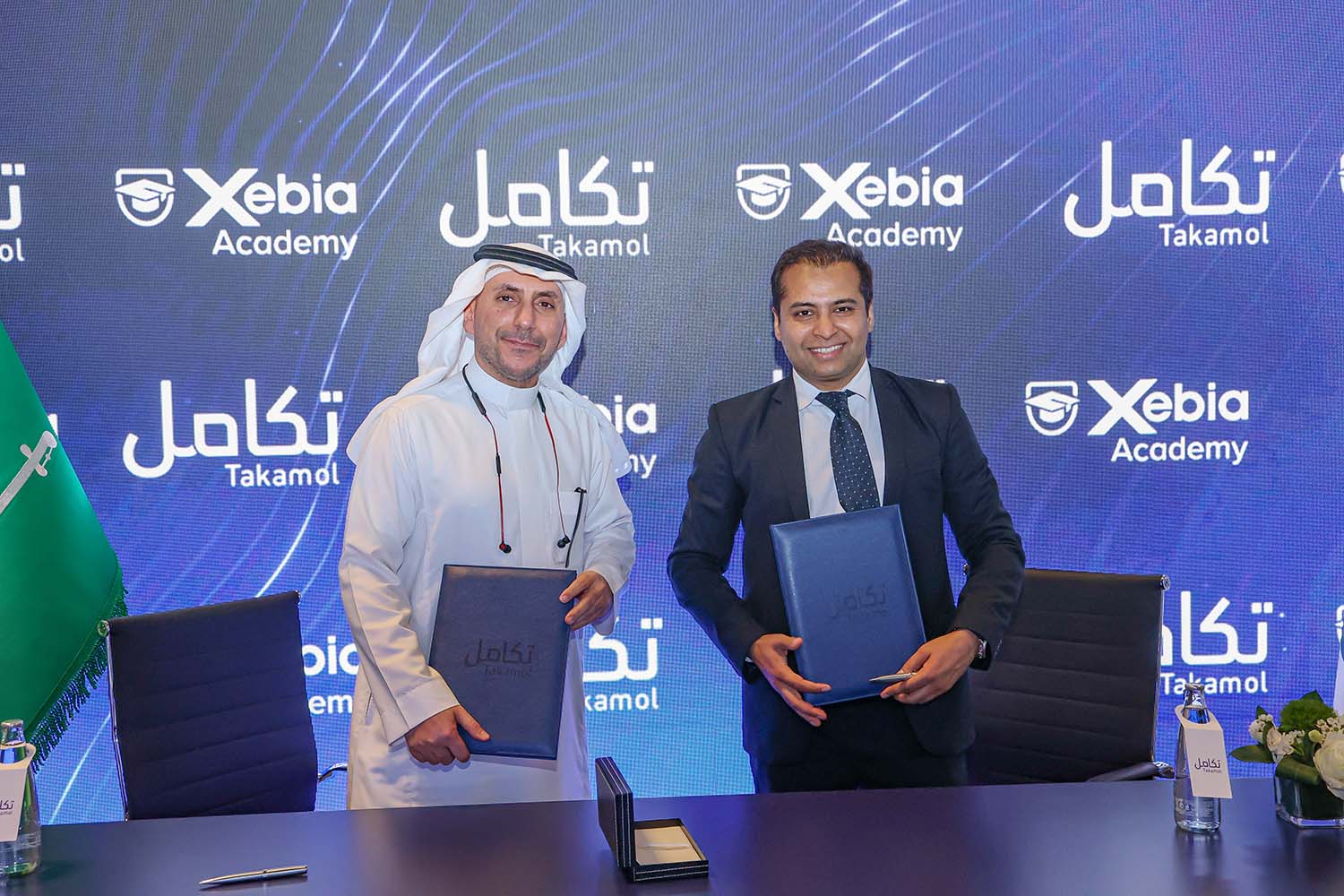 Takamol Holding works closely with government, semi-government, for-profit, and non-profit business sectors to create positive, sustainable change in the Saudi Arabia labor market through numerous empowerment and training programs. Congruent to its mission, the Takamol Academy digital arm project aims to advance Saudi Arabia's ICT sector by providing development opportunities in various technologies, including Data/AI, Cloud, Engineering, Intelligent Automation, Agile, Gen AI, Blockchain, and many others within the region.
"As the country continues its transformation journey, the demand for future-ready workforce is paramount. Takamol will leverage its local expertise, academic R&D, training operations, and strong experience with the employability models addressing the Saudi job market needs," explains Dr. Abdullah Altuwaijri. He continues, "Our objective is to help people become job-ready and fulfill the talent needs of different verticals in the economy, including government organizations. We are basically filling the demand and supply gap by producing more Industry-ready talent. Currently, we are supporting both tech and non-tech sectors and plans to scale tech academy in partnership with Xebia."
Xebia Academy, known for its expertise and a long-standing commitment to sharing knowledge and helping individuals and organizations master technologies, will provide the backend system, including arranging trainers, building curriculums, granting certifications, and more to support the knowledge aspect of the Takamol Academy. The MoU signing represents a significant milestone in the two organizations' partnership, demonstrating their shared commitment to empowering individuals and driving digital transformation in the industry.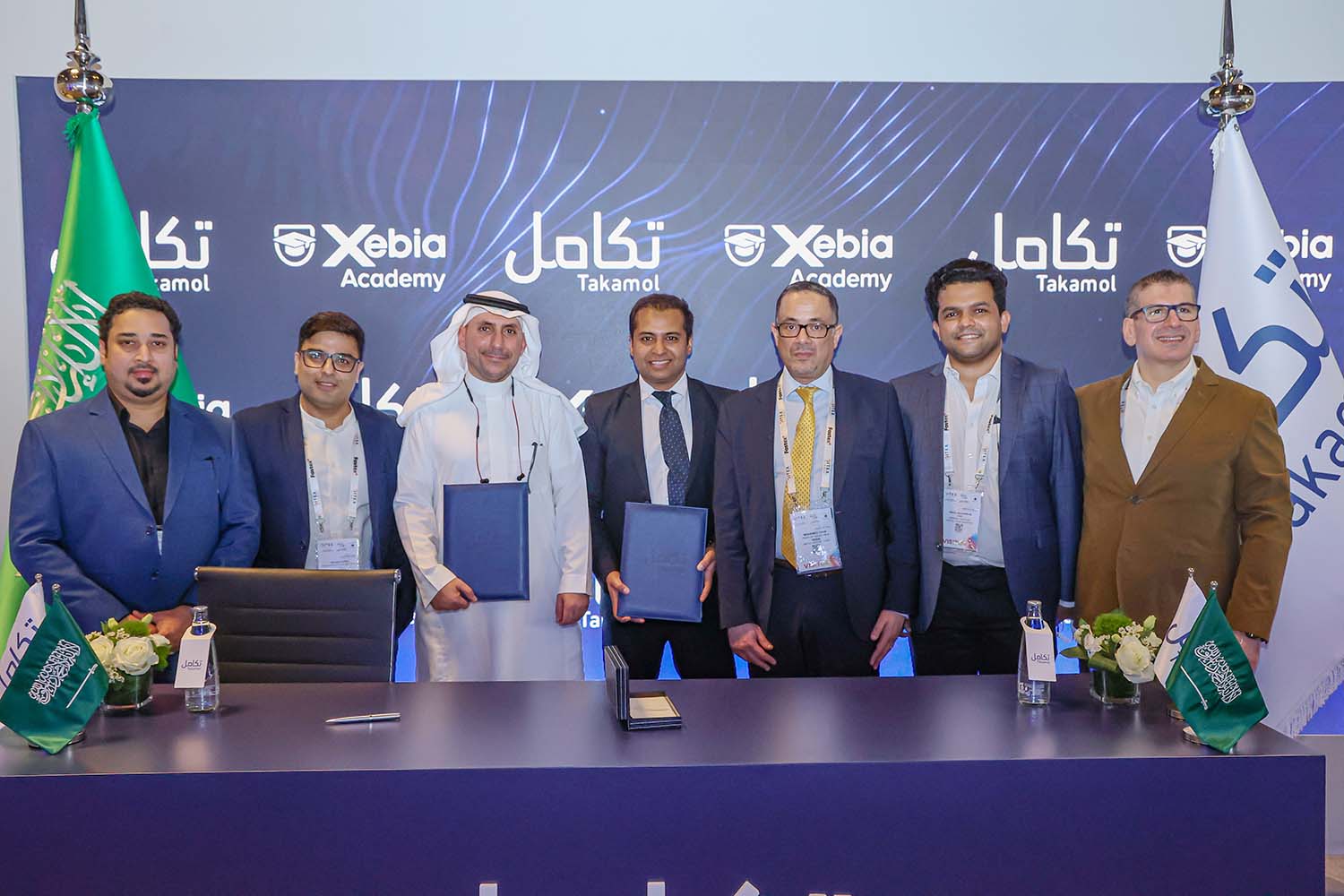 Speaking about the new partnership, Xebia Academy's Vice President Brijesh Kohli comments, "Xebia Academy shall work with Takamol using its technology experience, academy capabilities, and training courses to help address the knowledge gaps for the Saudi graduate community and professionals across cutting-edge technologies." He adds, "Saudi Arabia is going through a massive transformation, and skill development is a key priority of the country aligning to its Vision 2030 initiative. Xebia is proud to have this association with Takamol Academy where we see fitments and alignment of our vision and goals. Xebia will be able to bring innovative technology training and certification programs to build a more skilled workforce in the country."
For media inquiries, please contact: jason.mcclellan@xebia.com
About Xebia Academy:
Xebia Academy trains teams, working professionals, students, and IT aspirants in specializations such as Data & AI, Cloud, DevOps, Business Agility, Security, Training and learning, Software Development, Product Management, and Quality Improvement. With the experience of training more than 100,000 students globally and a body of highly skilled trainers and consultants, Xebia Academy aims to bridge the gap between on-ground technologies and ambitious individuals, bringing proficiency to the industry.
About Takamol Holding:
Takamol leads the socio-economic transformation for individuals, society, and the economy by creating unique solutions to fulfill everyone's needs. This is done by creating comprehensive solutions for socio-economic development and government services through and for unleashing talent. With its modern concept, Takamol Holding targets and serves individuals and prominent labor segments of the public and private sectors. The company aims to empower, achieve, and create a positive, sustainable change in the Saudi labor market and strives to sustain a lasting impact that would benefit society.