DevOps and SRE Consulting in combination with AIOps tooling
On April 23rd, 2021, StackState and Xebia signed a partnership agreement. This will enable Xebia to enrich their DevOps and SRE consulting services with innovative and intelligent Observability (AIOps) solutions.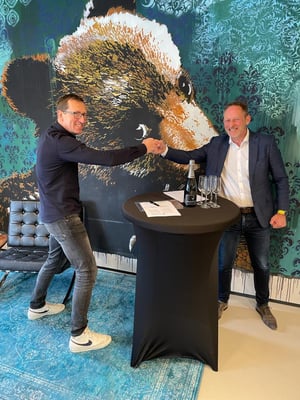 "Reliability is key for any of digital business. Leveraging StackState's ability to proactively monitor end-to-end digital business processes and the "full stack" of supporting technology landscape really makes the difference. Using StackState as Observability solution helps companies to bridge the gap between development and operations, support DevOps transformations and cloud migrations while safeguarding and improving the reliability of the entire IT landscape", says Martin van Steenis, Manager Xebia IT Architects.

Stackstate's Accout Executive Jeroen Storm adds: "We're delighted to be partnering with Xebia to help bring Observability practices and solutions to global enterprises with mission-critical applications running on dynamic and complex IT environments. The combination of their strong consultancy in the space and StackState's platform will help these organizations ensure the performance and reliability of their applications, keeping employees and customers productive and satisfied."


StackState is an observability solution that helps enterprises decrease downtime and prevent outages by breaking down the silos between existing monitoring tools and tracking changes in dependencies, relationships, and configuration over time. The system relates these changes to incidents, understanding the precise change that is the root cause of an issue. Our clients realize decreases in mean-time-to-repair (MTTR), fewer outages, and lower costs associated with incidents.
Xebia is a fast-growing digital leader known for helping companies worldwide digitally transform themselves by offering high-quality cloud, data, AI, Agile, DevOps, and software consultancy. Xebia Group has successfully launched several brands and continues to expand in line with its 'buy and build' strategy: partnering with thought leaders to gain additional footing in the digital space together.