May 19, the second edition of Kotlin Dev Day took place in Amsterdam. Over 650 developers and engineers attended sessions hosted by community leaders. Whether you're at the start of your journey or ready for the next steps, Kotlin Dev Day provided the perfect opportunity to learn about a language on the rise. In this article, you can read more about this exciting day!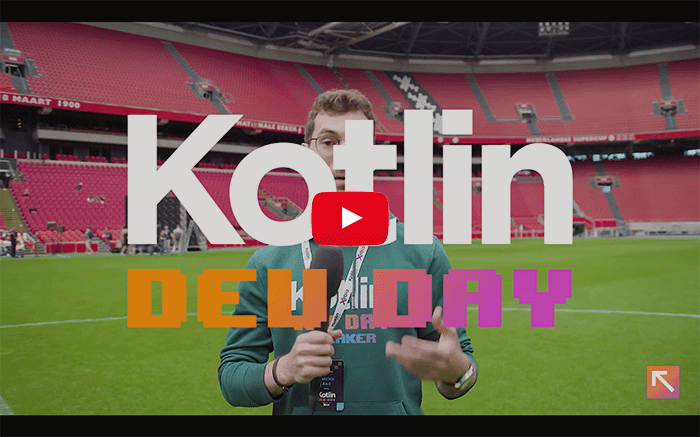 "Kotlin Dev Day - dedicated to knowledge sharing and community building - is one of the largest Kotlin events worldwide.
Johan Cruijff ArenA

We didn't choose just any location! The Johan Cruijff ArenA is one of Amsterdam's innovation hubs. A smart stadium known to challenge the status quo through an exceptional platform that enables testing and scaling of life-changing solutions. What better place to talk about shaping the future with Kotlin than here?
Program

Kotlin Dev Day brought together 30-plus speakers who shared their knowledge of and experience with the programming language in memorable keynotes and hands-on sessions from three different stages.
"A jam-packed program to excite you for Kotlin, improve your current skills or challenge you to take coding to the next level."
Kotlin Keynote Speakers

What's a day about Kotlin without its developers and supporters? We were thrilled to welcome JetBrains' VP of Developer Advocacy Hadi Hariri, Developer Advocate Anton Arhipov, and QA Lead Liliia Abdulina.

Hadi spoke about complexity and the consequent need for more developer resources. He invited us to think about how we can make the world a more simple place. Anton introduced us to Ktor, an asynchronous web framework built using Kotlin, and he taught attendees how to develop a simple application.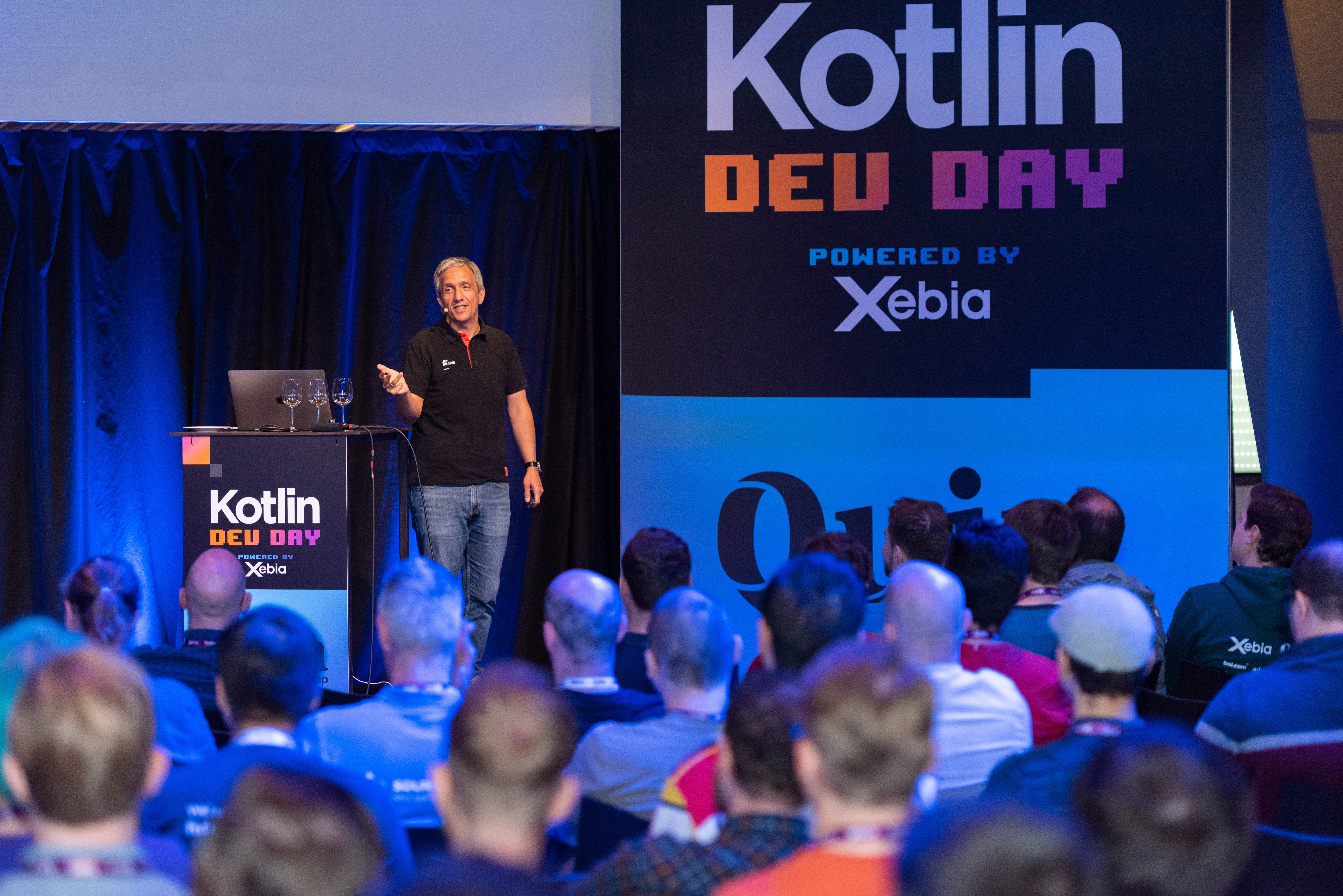 Then, one of the founders of Kotlin, Andrey Breslav, showed us how Kotlin is based on older languages, such as Java, Scala, C#, Groovy, Python, and Nice. He explained which parts of the design were inspired by what languages and what Kotlin does differently in each case.
James Ward, who recently started a new job as Product Manager for Kotlin at Google, told us what excites him most about Kotlin.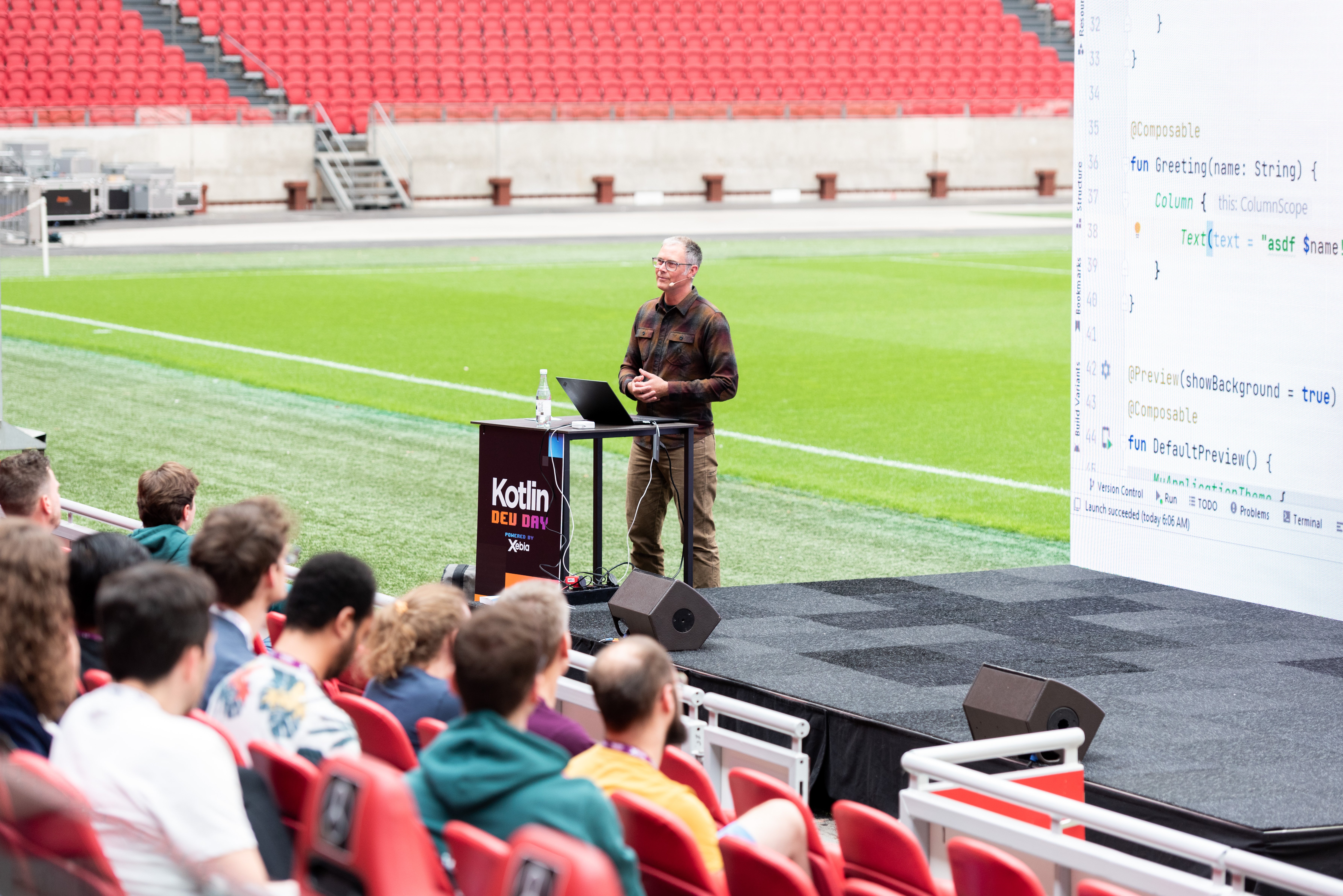 Jeroen Rosenberg, Software Engineering Consultant at Xebia, shared mind-blowing Kotlin gotchas from his own experience and challenged attendees with a unique Kotlin quiz!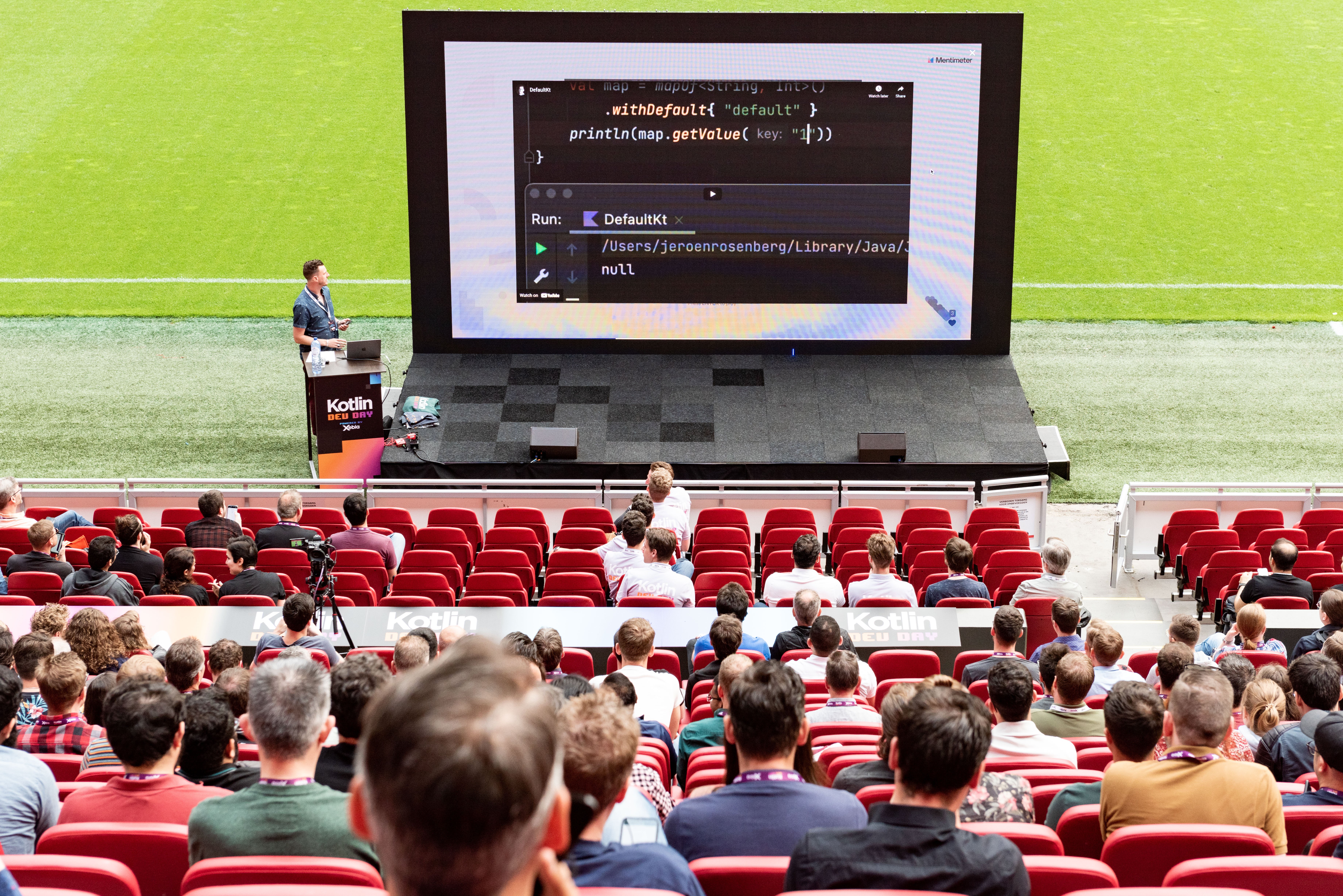 Finally, Urs Peter, Senior Software Engineer and JetBrains certified Kotlin Trainer at Xebia, believes so much of Kotlin's potential is still untouched. He shared how to unleash Kotlin's idiomatic magic and take your developing skills to the next level.
Thank You!
Besides the keynote speakers highlighted above, over 20 architects, developers, and engineers from pioneering companies entered the stage. We want to thank Quin, Adyen, Kodein Koders, Rabobank, Topicus Healthcare, Blue4IT, Aircall, 47 Degrees, Adidas, TIER, Picnic, Instil Software, and all individual Kotlin gurus for your contributions!
A special thank you goes out to our sponsors and all attendees. Kotlin Dev Day is a not-for-profit event, so any profits made flow straight back into the community. Based on your votes, we will distribute the 10K profit amongst Zeilen van Vrijheid (5K), Save the Children (2.5K), HackYourFuture (1.25K), and JustDiggit (1.25K)
"It's very rewarding to see the excitement of the speakers and attendees and receive messages about how much they loved the event and will attend again next year. For us, it's all about being a frontrunner in the Kotlin community, and after this event, we can safely say that the community is thriving! It's great to be part of that!" - Martijn Eschmeijer, Chief Marketing at Xebia Software Development.
Recordings are available
Let's keep on learning! You can find recordings of all the sessions on our website. When slides are available, they will be linked in the details underneath the video.