Xebia has been named a 'Leader' in the Low code Application Development Services PEAK Matrix® Assessment 2023 by Everest Group. The global technology consulting company attained this recognition for Appian and OutSystems Low code practices.
Xebia is positioned among the highest on the vertical for "market impact" based on the number and diversity of clients and value delivered to the client based on customers. The company is horizontally positioned furthest in "vision and capability" based on depth and breadth of service portfolio, innovation investment and vision for its clients.
The report highlights Xebia's strengths in the Appian and OutSystems domains. Relationship management, resource management and talent investments feature as the top strengths for Appian services. We make strategic investments to aid service delivery and provide flexibility in managing talent requirements. Our investment in client relationships extends well beyond contractual obligations to address client requirements.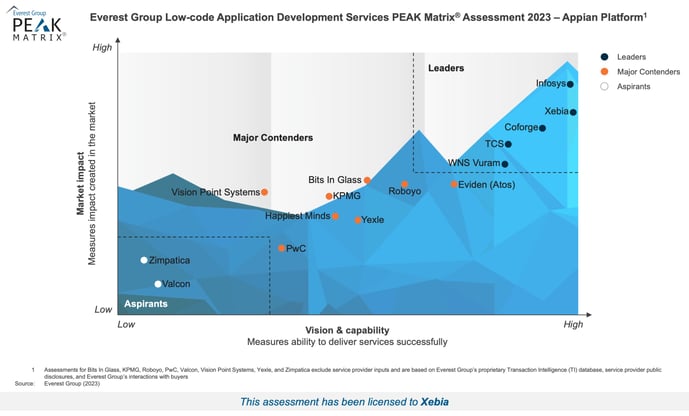 Click here to read the customized profile
When it comes to the OutSystems platform, our technical expertise, delivery experience and resource management have emerged as our strengths. Aided by its close partnership with the OutSystems product team, Xebia provides in-depth technical knowledge of the platform. We have extensive experience in completing several OutSystems projects across multiple industries and various types of use cases.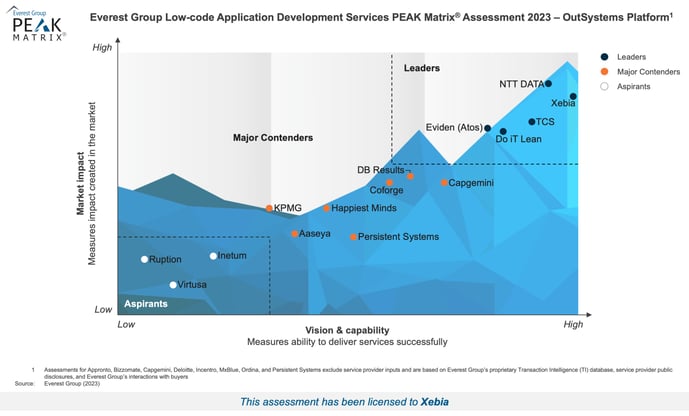 Click here to read the customized profile
Speaking about the achievement, Anand Sahay, CEO, Xebia, said, "This is a proud moment for Xebia. Our recognition as 'Leaders' asserts our authority in the Low Code space and validates our expertise in Appian and OutSystems platforms. It has been our endeavor to consistently raise our quality benchmarks with continuous innovation, faster delivery, and high performance. We have also excelled to skillfully combine both the Low Code and High code paradigms to deliver massively scalable enterprise applications."
Xebia aims to utilize low code technologies to tackle business problems, improve customer experience, and turn IT into a profit centre from being a cost centre.
The assessment is based on Everest Group's annual RFI process for 2022, interactions with leading Low code application development service providers, stringent reference checks and an ongoing analysis of the Low code application development market.
"Low code application development has become increasingly popular as businesses seek to streamline their software development processes and drive innovation at an accelerated pace. As enterprises face the challenge of selecting and deploying the best-fit low code platform, they are seeking support from system integrators offering low-code application development services," said Alisha Mittal, Vice President, Everest Group.
The Leaders, as per the PEAK Matrix assessment, have the strongest delivery track record across several industries and geographies. Along with effective project execution, they possess a strong partner ecosystem to leverage the latest technology and accelerate innovation.
Video 1: Tarun Khatri (Co-Founder at Xebia Appcino and Head of Appian Practice) talks about Xebia's recognition as a Leader in Appian by Everest Group
Video 2: Sandeep Makwana (CEO at Xebia NDS and Head of Outsytems Practice) talks about Xebia's recognition as a Leader in Outsystems by Everest Group