We are proud and humbled to receive the

ET BestBrands

recognition.
"We at Best BFSI Brands are celebrating the best of enterprise dexterity amid challenging times, Xebia being a prime example. We salute their spirit."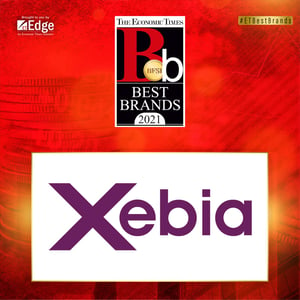 The Economic Times is an integral part of the 175 years of The TIMES GROUP legacy, India's biggest media conglomerate, with the publication having experience of over half a decade of reporting and analyzing in the field of business and finance. The Economic Times has been committed to creating the right environment for business to blossom in India.
The Economic Times has been at the vanguard of Indian business for more than half a century, actively participating in the growth story of India Inc. Through ET Edge, it looks to address a key lacuna in the industry, that of the lack of a singular platform that brings together industry stalwarts, academicians, leading trend setters and policy influences of industry to discuss all that is relevant to their business arena. Founded to empower multiple industries and segments by sharing critical business knowledge through strategic conferences and summits, ET Edge (an Economic Times initiative) strives to create a social and business ecosystem that is conducive to bringing about the changes required by the industry.
As a catalyst for growth, ET Edge acts as the go-to knowledge destination for industry stalwarts and policymakers from the government. These platforms are not just the sole inflection point of receiving critical information, but also forging relationships at a global level.